Product >
Software
CARBONTEST® Report is a processing software which has been especially created for making out a technical report on carbonation depth analysis. It makes it possible to organize the results of the measurements taken during the collection in summary sheets and setting up diagrams of propagation of carbonation in order to forecast the remaining life of the structure being analyzed.
Complete processing of the information put into the software returns a detailed and highly professional .docx format document, which can be further modified and customized by the user. The technical report complies with the provisions of the reference Standard UNI
9944:1992.
Simple and intuitive screens guide the user step by step when making out the report. Some parts are already made out to cut down time and let the operator follow a basic track providing a complete document in a very short time.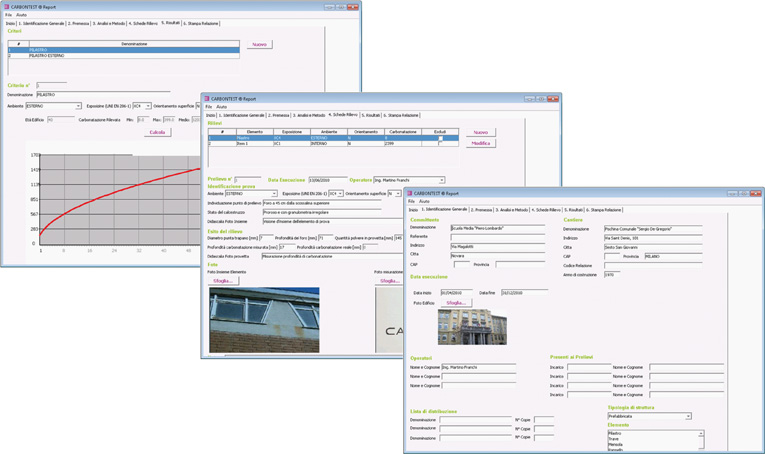 The introductory screens allow to put in test identification data with references to the principal, the person carrying out the test and the site, in order to provide the context of the item being investigated.
The following parts are the survey sheets, which have been suitably designed for the introduction of the data recorded during the collection phase and make it possible to integrate with photo documentation.
The survey sheet is subdivided into two parts: one uniquely identifies the test point, specifying the kind of element, the environmental information of orientation, exposure and state of the concrete; the other provides the outcome of the collection, showing the main measurements carried out and the actual depth of carbonation.
In the final part, the Data Base implemented to organize and classify all the tests included in the software allows the user to process by uniform classes of tested elements, creating user-chosen criteria for grouping together. The construction of carbonation propagation diagrams takes place for each user-chosen criterion, and makes it possible to estimate the remaining life of the structure being analyzed. The versatility of the processing allows one to obtain accurate results for each kind of structure.
With CARBONTEST® Report professionals can count on a quick and complete instrument for responding to the needs of principals, who will receive an easy to read and easy to interpret technical report, fundamental for planning any maintenance interventions in order to prolong the life of the building.
Technical Information

Minimum System Requirements
The software works if the computer has the following features:
OS: Windows XP SP2 / Windows 7
Microprocessor: Pentium 4 3Ghz or superior
RAM: 1Gb or superior
Videocard: 1024x728 or superior
Word: Office 2000/XP/2003 (with plug-in Compatibility Pack 2007), office 2007, Word 2007 Viewer or superior
Attention
To activate the software the computer must be connected to Internet.
Licence
CARBONTEST® Report is protected by licence. One licence allows the installation on 3 different computers.
Language
CARRBONTEST® Report is available only in Italian.